Over recent years the recession has bitten deeply into the industry in South Yorkshire. A large number of long-established companies bit the dust as markets shrank and profit margins dwindled alarmingly. Only the strongest, most efficient firms have survived - one of these is Francis Chambers & Co Ltd.
We are electrical engineers based at Parkgate, Rotherham, The business was established 1947 and has been successfully trading for over 70 years and the future looks bright with healthy order books enough to keep our staff busy into the foreseeable future.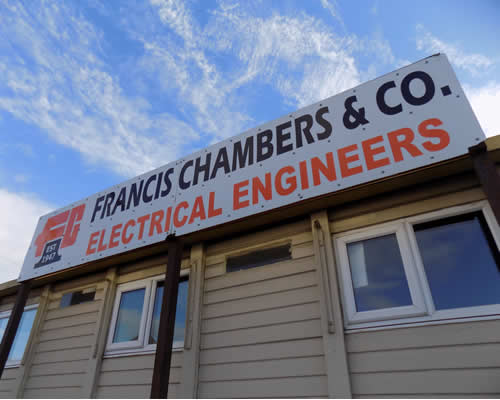 Managing director, Gavin Twynham, is optimistic about the future and confident that the business will continue to flourish and to expand steadily as it has done since 1947. That was the year that Francis Chambers and Co Ltd was established by Mr. Francis Chambers - formerly of Newton Chambers of Chapeltown. He set up premises in a backyard off Albert Road, Parkgate and began rewinding motors for Smithywood Coke Ovens.
He was later joined by Leslie Woolhouse. Neil Twynham [Gavin's father] joined the staff as an apprentice armature winder in 1960 and two years later the company moved to their existing premises in Taylors Lane where they were surrounded by local industry including the NCB, South Yorkshire Coke and Chemical and British Steel.
Gradually neighboring firms closed down but Francis Chambers prospered.
When Francis Chambers died in 1977, Neil became a partner and two years later became managing director. His son, Gavin, joined the company in 1988 and like his father worked his way up. Unfortunately, Neil died in 2009 and Gavin became managing director of the company.
Today the company employs seven staff as well as repairing and servicing everything from small power tools to 700kw industrial motors. Staff deal with on-site repairs and fault finding.
Francis Chambers has achieved certification to the internationally recognised standard ISO 9001:2015, this certificate shows that we are committed to continuous improvement and are assessed to ensure progress is being maintained.
Since 1970, we have been selling electric motors all over the country and have the largest stock in South Yorkshire, ranging from .09kw up to 315kw off the shelf. The company also stocks a large range of replacement motors for air conditioning and heating systems. Pumps, fans, transformers, and control gear are also stocked.
The company policy is to offer personal family service as well as reliability and top quality workmanship whether dealing with a small or large job and it has paid dividends because the company has never had to introduce short time to work and continues to go from strength to strength. We also operate an out of hours service if you're in need let us know.
CONTACT US TODAY
If you have any requirements or would like to know more about our services then feel free to get in touch.